US Commander Warns of Russian, Iranian, Pakistani Influence in Afghanistan
The top U.S. commander in Afghanistan says Russia, Pakistan and Iran are pursuing their own agendas with regard to the fragile country, complicating the fight against terrorism and extremism.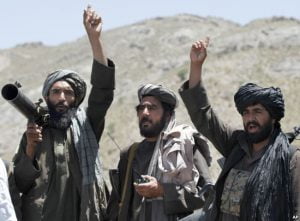 "We're concerned about outside actors," General John Nicholson told VOA's Afghan service in an interview.
Russia, which had an ill-fated intervention into Afghanistan that started in 1979 and ended nearly a decade later, has been trying to exert influence in the region again and has set up six-country peace talks next week that are excluding the United States. Nicholson worries about Russia's links with the Taliban.
"Russia has been legitimizing the Taliban and supporting the Taliban," he said. "Meanwhile, the Taliban supports terrorists. I'm very sorry to see Russia supporting the Taliban and narcoterrorism."
Moscow denies that it provides aid to the Taliban and says its contacts with the group are aimed at encouraging them to enter peace talks.
Taliban role in peace efforts
Despite the Taliban's history of violence and extremism, Nicholson didn't rule out a role for the Taliban in the peace process, saying there were elements in the group that appeared to be more pragmatic about the country's prospects for peace.
"Many of its leaders see a better life for all Afghans," he said.
Meanwhile, he said Iran appeared to be supporting extremists in western Afghanistan.
"But the situation is more complex than with Russia," Nicholson said. "There needs to be a relationship" between Afghanistan and Iran, which have seen a resurgence in trade that has partially compensated for a decline in Afghan economic activity with Pakistan.
President Donald Trump's new administration has made a flurry of contacts with top Afghan and Pakistani officials in recent days as it formulates a new policy in the region. That clearly involves pressure on Islamabad to do more to crack down on terrorist groups that hide out near the Afghan border in Pakistan's volatile tribal areas.
"We want cooperation from Pakistan against all terrorists," Nicholson said. "We must have pressure on external sanctuaries in Pakistan."
Rooting out terrorists would help ease Pakistan's concerns about further attacks on its turf that are seen by many as a penalty for the country's support for the U.S. war on terrorism, he said.
"We all hope for a change in Pakistani behavior," Nicholson said. "This is in Pakistan's interest."
Read More: VOA News – US Commander Warns of Russian, Iranian, Pakistani Influence in Afghanistan
—
Iran Briefing | News Press Focus on Human Rights Violation by IRGC, Iran Human Rights